No, this is not the headlines of another boring politicians' meeting in on of the world's posh resorts. It means rather that it is about time to see the next monument!! I think many of you have heard about this one (as opposed to the Crazy Horse).
The heads of state – it is the four presidents that I am talking about: George Washington, Thomas Jefferson, Theodore Roosevelt, and Abraham Lincoln.
Everybody, meet the four presidents:
They have been instrumental in the American history and carving their faces in the granite mountain was a way to promote the local tourism and also pay the tribute to nation's prominent figures. The sculpture is impressive from the distance:
Of course, the project stirred some controversy. Mount Rushmore (previously known also as Slaughterhouse Mountain among other names) is located in the Black Hills of South Dakota. And, as you already know, Black Hills are sacred for the Indian peoples. The lands were given to the Native Americans only to be taken from them a few years later (back in the nineteenth century). No wonder that some members of the local Indian communities are not fond of the monument. You can say that the Crazy Horse Memorial is a form of response to the Mt Rushmore monument.
Now, Mr Washington, no need to hide behind that tree: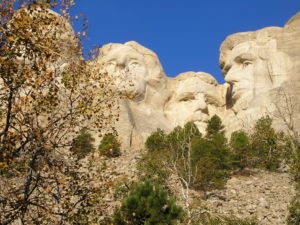 That's better (but now the remaining three Presidents are hidden):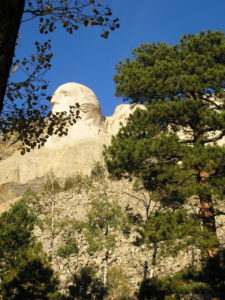 So there you have it: the four heads of the state:
Fun fact: Mr Lincoln is also on a 5$ note.
As is the case with Crazy Horse, Mt Rushmore is not only a sculpture. There is a visitor center, a museum dedicated to the creator of the sculpture and the Presidential Trail.
Let's have a look around:
The site was made even more famous by a Mr A. Hitchcock in his movie North by Northwest.
However, contradictory to what Mr Hitchcock is suggesting, next time we will head west and a bit south.