As you know the Hoover Dam is on the border of two states: Nevada and Arizona. It makes perfect sense then to go to the latter and see the canyon.
Before you get too excited: it's not the world famous Grand Canyon, it's just a national monument that happens to be in the same state as the Grand Canyon and encompasses not one but three canyons. What am I talking about? Canyon de Chelly National Monument. This is the place that we will visit today. For those of you who expected a post about the Grand Canyon – nothing to worry, we will get there shortly. After all, we are in Arizona already….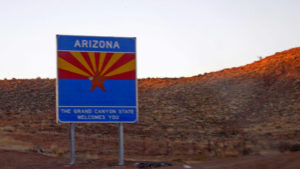 Grand Canyon may be the most important and most recognizable sight in the state – even the state's nickname suggests that. But there is more than just that in Arizona. There are mountains, forests, canyons, monuments, national parks and other things to see there. They even have ski resorts! That's why the first thing we will visit here is not the Grand Canyon but something else. You know the name already: Canyon de Chelly.
The monument covers the floor and rims of three canyons: de Chelly, del Muerto, and Monument. The place is entirely owned by Native Americans of the Navajo tribe. Because of this fact access to the floor of any of the canyons is restricted – you can go there only if you travel with authorized personnel.
Arizona is not only arid climate and endless sun as the below photos may suggest:
As I said there are even ski resorts in the state. Well, for that you need to have some cool air at least for a part of the year. And you will find that when heading north to the city named Flagstaff. Just look how drastically the landscape changes:
Luckily for us Flagstaff is a good starting point to visit the Grand Canyon. And that's where we will go next time…